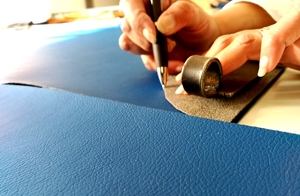 Before getting into our manufacturing process, we remind you that all our Bronze and Silver range are delivered within 5-10 days depending on stock avaialability at time of order. In terms of our Platinum range covers (made to measure car covers), we custom make this cover for each order. We are a family business, with limited resources but very focused on offering a quality product, so we prioritize quality over speed with the hope that our customers would not mind waiting a little longer for their car covers given the outstanding quality and finish we offer.
Each car cover is cut and sewed manually and therefore each takes a few hours to make. We have hundreds of patterns and even sometimes we go outside our workshop to take dimensions of new cars. Fortunatelly we have a wide large customer base - both profesionals and private - which takes our lead time to about 3 weeks and even 4 weeks at certain times of the year from the moment you enter your order till we are able to ship it to you.

Many e-commerce platforms today offer 24/48 hour delivery even same day deliveries! We cannot adhere to these policies; our craftmanship and artisan processes, our attention to detail stay intact, at the end of the day we are making a custom suit for you car, made to your specifications and this takes some extra time. We hope you understand this.

Having said that, we of course can accomodate special or urgent orders that require quicker turnaround times. In these cases it is better to speak before hand with our customer care team who will do their best to accomodate your requirements.

We work every day to improve our processes but always keeping quality as the pilar of our output.

Our customer care team is available at [email protected] or by phone and whatsapp at +44 20 3289 4925.

Talk soon!
Leslie