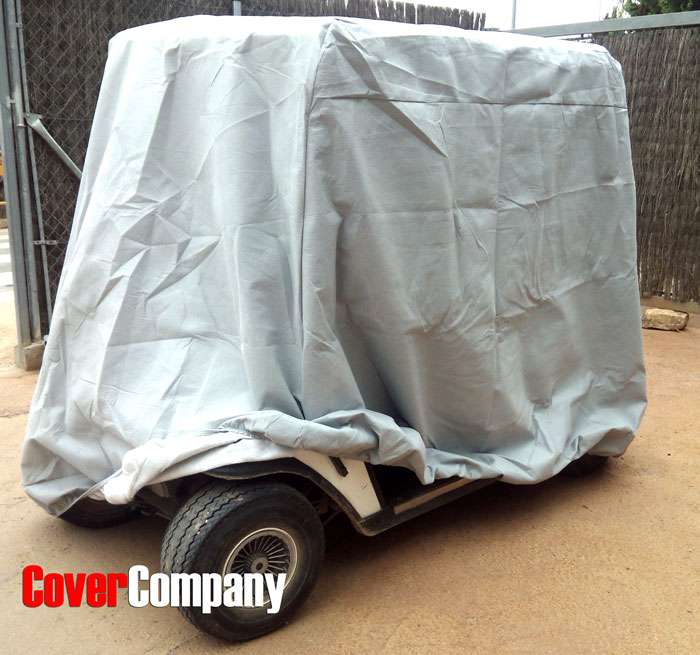 Is your golf cart stored outside? Are you looking to keep it in optimal conditions? Your golf cart can suffer many outdoor damages. Indeed, among aggressive external agents, we find: the rain (sometimes sandy, salty or acid), snow, frost, hail, dust, dirt, sun heat, UV rays but also bird droppings, tree sap, scratches, stone throws, cat/animal scratches, leaves blocking air ducts.

In order to extend the life of your golf cart, get it well protected! Outside, a waterproof and breathable tarpaulin is a must. In addition, make sure that it is well fitted (adjustable strap, elastic bands...) to avoid wind fluttering. Our cover also features eyelets in case you wish to add a cable with a padlock (optional and at extra cost).

Our golf cart covers are made of very high quality 5-layers fabric. They are ideal for outdoor protection and can also be used indoors. The 5 layers give it the highest level of protection:
1 – Very soft fleece interior which prevents micro-scratches on the paint.
2 - Thick padding against scratches, light hail, and other knocks.
3 – Solid alloy of layers 3 and 4.
4 – Micro-perforated fabric which provides waterproofing while
allowing the cover to breathe.
5 – Highly resistant finish against UV rays

In addition, due to its light gray color, the tarpaulin prevents heat forming inside the car.

*Our cover provides basic protection against light hail but does not prevent damage from stronger hailstorms.

See our golf cart cover here.