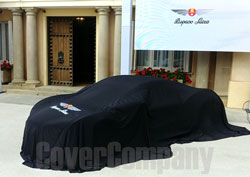 Presentation - Reveal Car Coves: The indispensable accessory for your Car Show
At Quality Car Covers we are proud to present our range of Reveal car and motorfbike covers. Specially desinged for EOM´s, dealerships and resellers, it is now also a very appealing item for detailers and body garages. It is the ideal cover for your car presentations, shows and great to surprise your customer after a detailing or a new paintjob.
At quality Car Covers we are active providers of reveal car covers for major brands like Porsche, Mercedes, Audi, Hispano Suiza or Ford and many others both directly for brand shows and presentations and also to their dealership networks. We also provide reveal covers to major motorbike manufacturers such as Harley Davidson´s dealers or Ray Electric Motoring among other major players.
Presentation covers are made of 100% polyester, has a silky touch and it´s very easy to slide out at reveal time.
We have also recently incorporated a motorised version of our reveal car cover which can be actioned at the press of a button, providing and even more spectacular effect to your customers.
Below you can see a short video of how this motorised cover is put into action:
If you have any questions on our products do not hesistate to contact our customer support team at [email protected].