If you are a company that organizes car events like new vehicle delivery, exhibitions or fairs and you are looking for quality covers that will bring WOW effect to the car show you are in the right place.
We have experience in creating covers for car shows as we worked on launches of new Porsche in Spain. Specially designed for Porsche dealerships and resellers, it is now also a very appealing item for detailers and body garages. It is the ideal cover for your car presentations, shows and is great to surprise your customer after a detailing or a new paint job.
Cover Company has already created reveal and presentation covers for the presentation of the new Porsche 992 in Spain, the presentation Porsche Taycan and for the presentation showroom launching in Portugal.
It is highly versatile: you can use the same reveal cover on many different car models (size and shape).
Customize it to fit your brand image:
Many colours to choose from

Choice of slightly see-through or opaque (thicker with inner fleece)

Reveal cover can either fall on the ground or reach slightly above it

Inscription / logo available

Sublimation printing: if you need to print a larger logo or specific pattern on part of the entire cover (the ink is heated until it disintegrates into the fabric)
As well as car reveal covers at Cover Company we produce adaptable fitted stretch car cover for Porsche.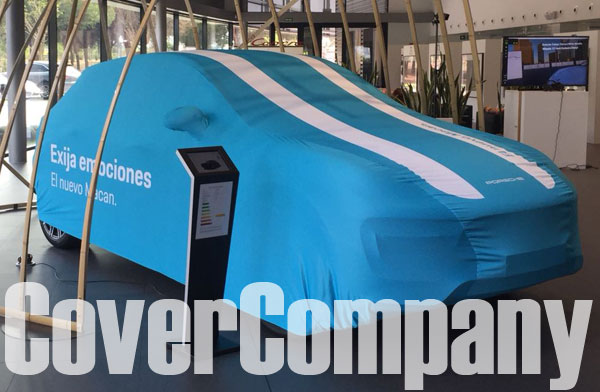 A semi-tailored cover made in a stretchy material without side mirror pockets. It nicely hugs the vehicle contours and provides a one-fits-various-models solution. The same car cover serves several models of the same category (we have many sizes ranging from the Porsche 911 to the Porsche Cayenne, including all Porsche SUVs).
This range is our top seller with car dealers, car garages and car storage companies. It is available in 5 colours: red, black, grey, navy blue or British Racing Green. We can also personalise the car cover with a logo.
Our car covers are made in our workshop near Barcelona. We offer a special discount for auto professionals. Please contact us at [email protected]rs.co.uk for further information.