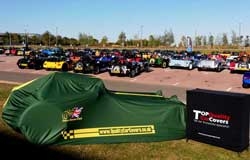 Last month we have shared a fantastic day with the Lotus Seven Club members at the British Motor Museum. The event was to remember Graham Nearn, who was the saviour and developer of the Seven until his death in 2009. Therefore at appropriate points in time the club always remember Graham with a mass Blat (long fast drive) and assembly somewhere significant.

In 2019 – the 20th anniversary of Grahams passing - the club drove from all points of the UK to the British Motor Museum at Gaydon to celebrate his life. This has been the largest gathering of Sevens in the world since the 60th of the Seven in 2017. The event also celebrated 25 years of the Caterham 21 with a visit & lecture by the designer Jez Cotes. The club vigorously supports its adopted charity, Jackie Stewarts charity, Race Against Dementia (RAD).

Thanks to a fantastic sun shiny day, over 200 hundred cars attended the event with a variety of series from very early Lotus Seven´s to the modern Caterhams. Members took the oportunity to gather and visit the museum, an excelent representation of the history of the motor industry in the UK.

Top Quality Car Covers was the only partner present at the Museum Parking where numerous members where able to appreciate the quality of our products and order directly with special event discounts.
We share with you all some of the pictures from the day, you can find more on our Instagram page.
We also would like to remind all members of the club that all are entitled to special discountson all our products, please reach out to the club or directly to us for further details.